My Turn: Seeing in Dad the elusive hope of memory -
latimes.com
NY Times: Expanding Alzheimer's Diagnosis
We sat in front of her, taking turns vying for her attention, racking our brains for the right song, tone, story that would bring her back. He held stroked her hair, the eldest son, and searched her eyes for recognition. Formerly held up as grandchildren idols, my brother and I became pieces of furniture, and no amount of hugs or whispered love unlocked her brain.
It is my worst fear. They call it the 'Long Goodbye', an unbearable mourning for a loved one who still breathes in and out but has vanished, stolen with their soft generosity and sweet support. It is my worst fear, not that I would get Alzheimer's but that those I love would. It's a selfish fear, greedy in my adoration, and protective of all time together. It's a fear of the unknown with vast crevices in the information, the dilemma of how to study the human brain using a human brain that stumps us along the way. Without the ability to ask her, I worry that my cherished grandmother splashes in memories of terror, rewound from the present back to concentration camp days. I worry that she is aware of what's she's missing, locked inside a mind with no escape. I worry that she is miserable, hopeless, and praying for the end.
It would be easier to believe that she's a blank slate, body lumped in her wheelchair, mute as she twists a rag entwined between her fingers. It would be easier to believe that she has no awareness, no more fears or regrets, and no pain. It would be easier for me. But she hasn't spoken for almost 10 years, and still she sits through our visits, staring past our eager faces toward the white wall.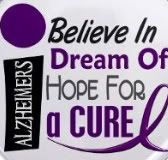 There are new diagnostic criteria being discussed among medical experts that would involve earlier detection. With new tests and predictions, many more could be told that they would get Alzheimer's, long before they began exhibiting symptoms. But what good does that do if there are no known courses of treatment? Does it help to live in fear of the day when you can't remember what a cup is? Is it beneficial to go through new and sometimes very painful tests to learn about a result you can't alter yet? The hope is that eventually we will learn more, understand more, and come up with new treatments. I hope.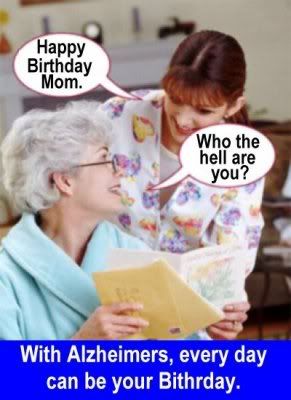 But for now, I'd rather not know. Instead, I slide crossword puzzles towards my father and read up on the benefits of gingko biloba for my mother. I hold my breath when names are forgotten and try to ignore the misplaced letter. I list their healthy habits, reassuring myself with exercise and good genes. I try not to make myself crazy with capturing every moment and memorizing his smile. There's nothing I can do anyway. What will be will be. So I cross my fingers for a cure and book flights for visits home. I choose to believe that my grandmother floats through her days, reliving sweet childhood if anything at all.
I lock away my fear, hoping that the day never comes when I look into my parents eyes and they ask who I am. I stick with the present, and pray smarter minds find the magic key before more of us have to say the long goodbye.